Buying a metal detector
Links from Amazon and Zeejuu
Buying a metal detector is not the easiest, as there are a lot to choose from. It's easy to get lost in the jungle of machines. But we will look at some ideas that make it a little easier to buy Metal Detector so that you can get started on your treasure hunt. Today, there are many bootleg machines of well-known brand detectors, so it is best to buy from a renowned supplier and a well-known brand. If you buy a brand name detector, you have a 2-5 years guarantee, and there are spare parts to get if you need them. If you are unlucky to buy a lousy bootleg detector, you might lose interest in the hobby, and that would be a shame.

Metal detector best buy
Proper equipment is an essential requirement for a successful time detecting. In addition to a powerful metal detector, a good Pinpointer is recommended. With the right equipment and a little luck, you can become a successful treasure hunter. What kind of metal detector to buy depends on the user, when, where and how you intend to use it. 
Each metal detector has its advantages and disadvantages. It is essential to find a good compromise that makes the machine a perfect fit for you.
Buying a metal detector guide
Inexpensive metal detectors usually have only a few features, but they are fully adequate for most users. The detector has a display that gives information about what's been found. Numbers, usually 0-99, show this. Many detectors also provide a graphic indication of what it believes is in the dirt. The depth at which the discoveries are located is also something that most detectors have, although the depth indication is usually a little inaccurate.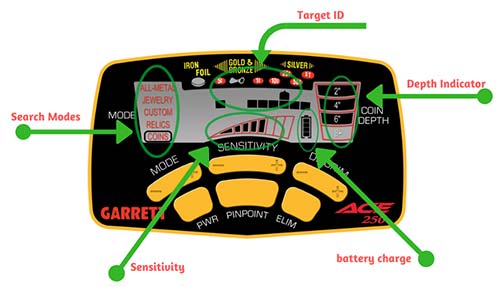 Sound is used for indicating discrimination and depth. The display often shows which search mode is active and the battery charge, and the detector's sensitivity. There is just about everything needed for a successful search. Built-in Pinpointer in the detector is good, although the use is a bit limited.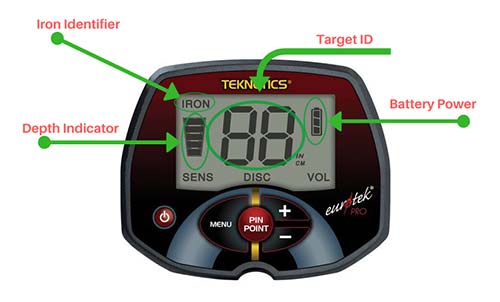 Detector search coils
One thing that may appear confusing is that there are many different search coils with different looks. But basically, there are two common variants, concentric and double D coils. Concentric coils are the most common and are a little cheaper than double D coils.
The main difference between concentric and double D, besides the price, is that a double D coil is significantly better in mineralized soil, such as saltwater beaches. Double D also has a slightly different search area, as shown in the image below.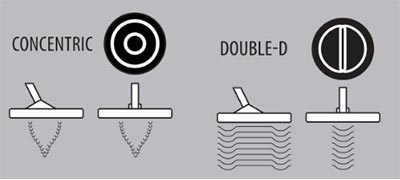 When it comes to search coils, a larger search coil covers more ground and goes more in-depth but has reduced smaller objects' sensitivity. Consequently, a smaller search coil gives more sensitivity to smaller objects and better separation between the objects.
Headphones for metal detectors
Headphones are available for most detectors but are not something you need. If you are detecting in a disturbing and noisy environment, it may be justified. All metal detectors have speakers, so that you can hear indications and levels without headphones. There are several sound indications on more advanced metal detectors, so you may need headphones to understand all the nuances.
Things to consider when buying a Metal Detector
What are you mainly looking for? Is it coins, jewellery, buttons, chains or maybe gold or why not meteorites?
Most metal detectors discover coins, jewellery and the like quite quickly, although some detectors differ in things such as depth of search, discrimination and other settings.
If you plan to prospect for Gold, then some unique detectors are needed. As I wrote on Metal Detector for Gold, not many people in Scandinavia are looking for Gold with a metal detector.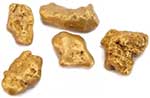 Where do you plan to do your detecting? On the beach, fresh or saltwater, in mineralized soil or maybe in the water?
If you plan to search only inland, on beaches and fields, an "all-purpose" detector will work well. But if you use it at saltwater beaches or in mineralized soil, it puts other requirements on the detector. You need to be able to set "ground balance". If you need to go into the water a lot, you may need a completely waterproof one. Most detectors can lower the search coil a bit in the water but check for safety "info" about the detector you intend to buy.
How much does the Metal Detector cost?

By and large, you can say that you get what you pay for, as long as you stick to well-known brands. However, a lot of plagiarism has emerged that looks like well-known brands. Detectors that not at all measure up to the quality or function.
So when you buy a detector, do it from a known supplier and pay for a real brand detector, you will not be disappointed. You get an excellent hobby detector for 200-400 EUR, which is excellent for our conditions. There are also cheaper machines, but then you have to lower your expectations a bit. There are, of course, much more expensive detectors with many unique features.
How much will the Metal Detector be used?

In Sweden, we have relatively limited opportunities to conduct metal searching, both in terms of permits and when it comes to seasons. So there is probably no risk of the detector being worn out. But if you often go to other countries for metal detecting, where it prevails other conditions, you might want to invest in a more expensive detector.
Setting up and adjusting the detector.
The simplest metal detectors usually only have "on / off", while the advanced ones have a whole heap of settings. A good hobby detector is not challenging to learn how to use. What one uses most is to adjust the discrimination between different metals and sometimes sensitivity and ground balance.
Here are several Metal Detectors that fit most wallets. A metal detector for beginners doesn't have to be overly expensive, but should still provide useful search results. The units below offer a reasonable price-performance ratio and are suitable as entry detectors. They all come from well-known manufacturers and will not disappoint you.
Buy a metal detector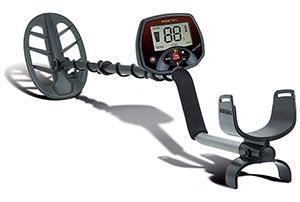 It's said of Eurotec Pro that "If there is metal in the ground, Teknetics Eurotek Pro finds it" a cheap but very competent detector. It has, according to several tests for hobby detectors, the best range when it comes to finding metal. It has a slightly different setting for discrimination, which requires a little testing of the levels to find the best result.
An easy-to-use, good metal detector to quickly get you started. Considered by many to be the perfect entry detector and unbeatable in its price range. With its low weight, it fits the whole family. Good depth of search and high sensitivity even for the smallest objects. The Garrett Ace 200i is a further development from the 150s with upgraded Target Id and Mode / Discrimination.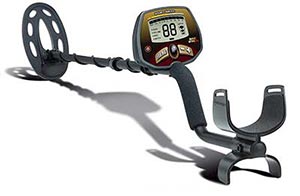 A good detector with excellent depth of search is easy to operate and use. An elliptical 10-inch concentric coil and a large LCD screen that uses both numeric and graphical target identification.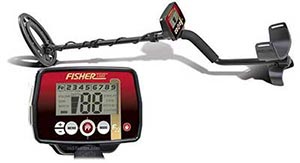 One of the best entry detectors on the market, this is the Big Brother of the famous Fisher F2. The Fisher F22 has several new features, not generally found on entry detectors. F22 has a brand new coil, a so-called triangulated elliptical concentric coil. The coil is narrower and easier to use where there is a lot of scrap in the ground, or where there are tight spaces.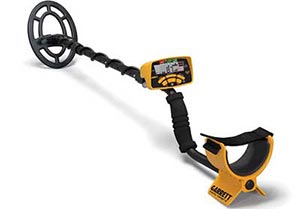 The Garrett ACE 300i has the most brand new under the hood. New 18×25 cm Search coil that covers more surface and depth than previous models. Higher frequency 8kHz gives improved sensitivity and depth of search.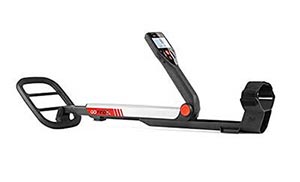 This is a brand new, unique series of affordable metal detectors from Minelab. Made for maximum ease of use. Just fold up and start. It is compact, easy to use and no assembly required. Folded together, it is only 56 cm long. Available in models 22, 44, 66. On Go-Find 66, You can use a smartphone app to control your detector and record your findings. A cool new model.

Good luck with your treasure hunt