Permits and rules for gold panning
Do I need permission to pan for gold? Depending on who you ask, you can get slightly different answers. Still, the answer that Sweden's geological surveys provide is that "Normally, no permit is required under the Mineral Act for small-scale gold panning of hobby character". So what one can understand from their opinion is that regular panning of hobby character is entirely okay, and it falls under the common right. This means that you can pan for gold, but you must restore pits and holes that you have dug. And you should also be careful not to enter anyone's private land or garden.
Rules for gold panning

Depending on where panning takes place and in what way, other permits may be needed. Examples may be nature protected watercourses and the like. All panning for gold should be done with concern for the environment. Another thing is that panning can only be done with hand tools, motor-driven tools and pumps require permission from the authorities.
Prospecting with a sluice box
A sluice box that is driven by the water stream is what I understand allowed. So if you bring the sluice box or a pan and take a trip out in the woods and Gold prospect for a while in a suitable creek or stream, you will not break the law.
What you might consider is that a company or a private person who has an exploration permit in an area has the exclusive right to prospect and search for mineral in that area. If you suspect that there are claims in the area, then it may be wise to check where they are first.
Swedish Gold Map
One way to be able to pan in already known gold-bearing areas is to join a gold-panning association. The association often have their claims that the members can pan. On the Find Gold in Sweden page, there is more about Gold searching. Below you will find the Gold Map that`s compiled at the Geological Survey of Sweden. It shows a rough picture of where there is gold. Almost everywhere 😀. If you go to their webpage, the maps are in better resolution.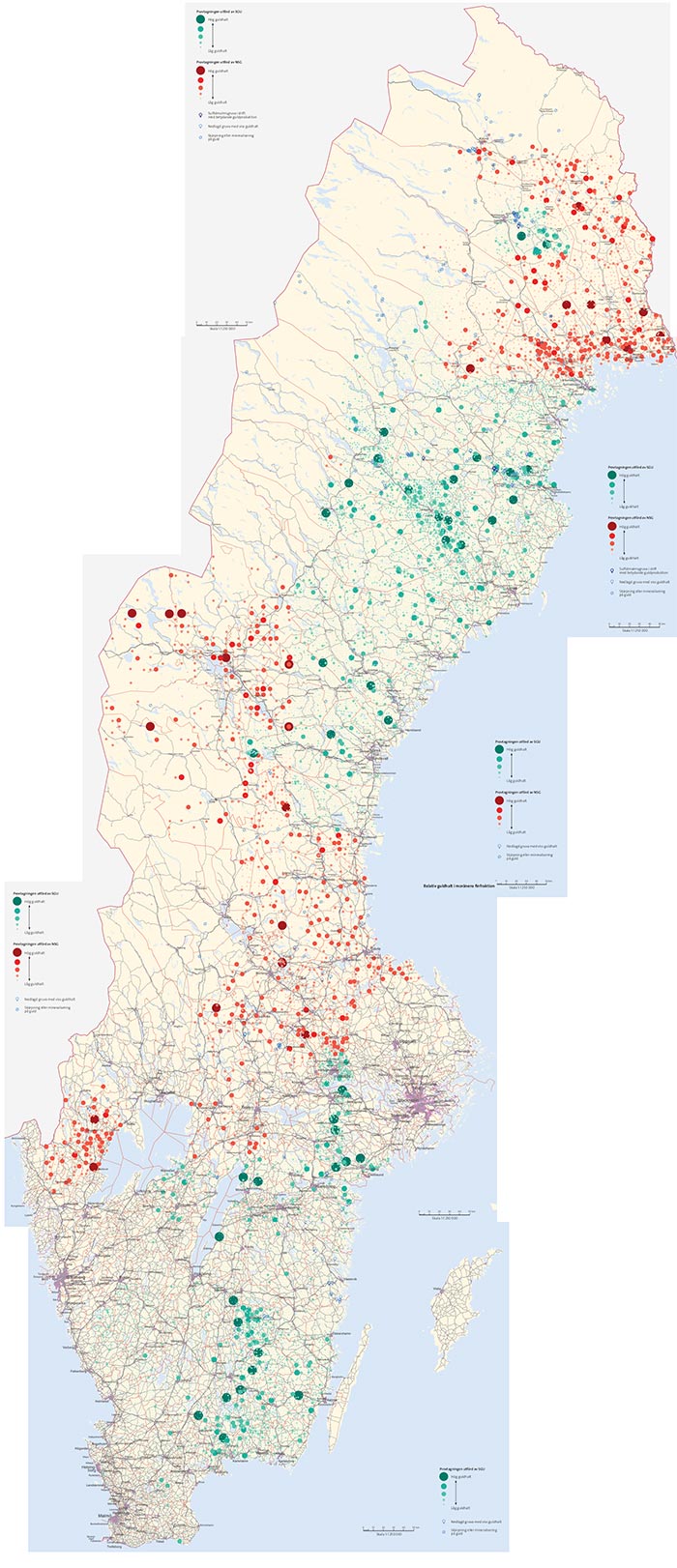 What does the gold map show?
Each circle on the map is a test point taken at about half a meter depth. The green circles are samples taken from "Sweden's geological surveys". Sampling began in 1983 and is still ongoing. The red circles are samples taken by the "State Mining Board". These samples were made between 1983 and 1991. The map above is a low-resolution variant that I have put together of 5 separate parts. The original is at https://www.sgu.se/om-geologi/mineral/guld/
There is also the Mineral Hunters Manual, a very readable book if you like stones and minerals http://resource.sgu.se/produkter/broschyrer/handbok-for-mineraljagare.pdf