Metal detectors best in test
Here is a list of 12 different metal detectors that are at the top of "Metal detector best in test". 4 in each price range, so you always find one that suits you.
Which metal detector is best in test?
Find the best metal detector can be a whole science. I have looked at many different criteria, to see which one can count as the best metal detector in the test.
When looking at which metal finder is best, you have to take some things into account. One thing is, of course, what level you are talking about purely economically, i.e. the price of the detector. You can generally say that you get what you pay for.
Looking for Gold with a metal detector
Another factor is the area of ​​use which one intends to use the metal detector, whether it is an excellent all-round detector, a metal detector for gold searching or if it is perhaps a model designed to be used underwater, for example, diving.
It is also true that all tests are somewhat controlled by which detector the tester sells or promotes. It is often the case that the detector that they sell is the one that gets the best or at least a better result than it would have received in another test.
Metal detectors in the US and Europe
It can also differentiate between the US and Europe when choosing a metal detector. In part, it depends on the environment and what local traditions one has of using metal detectors. There are more deserts, beaches and gold-bearing land in some places, and then you choose the detector after that. And partly because of the substantial market share that some metal detector manufacturers have in each country.
Choosing the right detector

Generally speaking, it is best to buy a metal detector from an established brand. There are plenty of copies today that look like familiar brand detectors. How they work and what quality and guarantee they hold are a little hard to know. So the recommendation must be to stick to an established brand. If you hold to a reasonably known brand, I don't think there is any lousy metal detector. Choosing the right one is more about liking and taste. It's like buying a car, some like it, and others don't. If you read a little about buying a metal detector, it becomes a little easier to know what you want.
The detectors are divided into three different classes. The price range varies, but this is how my classification looks.
Entry-level detector
The first is an entry-level model. It is a detector, not too expensive but has some settings. Works as expected with most features you may need. If you choose an overly cheap model with limited adjustment possibilities, you can get bored if the searches results are not good enough. There are more inexpensive metal detectors, but the price usually does not differ so much that it is worth buying the cheapest model.
Mid-level detector
The next step is an intermediate model. These detectors are a bit more expensive but have better performance and more possibilities, to make settings that fit the search, you are doing. It is at this level that most keen hobby detectorists usually start and it often goes quite a long way. For a normal hobby detectorist, a metal finder from these two levels works well. They generally cover everything a metal detector may need in terms of settings and quality. A mid-level metal detector from a well-known manufacturer will cover all your needs.
Top-level detector
A step above these two levels is the top models used more or less professionally. Still, if you can afford and think it is worth it, they provide additional performance and accuracy to previous models.
Metal detector best in test for gold and diving
Then you can, of course, buy a detector that has unique properties and is suitable for, e.g. gold prospecting or diving. When it comes to gold, all detectors indeed react to gold, but it is always a question of how sensitive it is to the gold and how mineralized the ground where you look for gold is.
The natural gold found with a metal detector is usually tiny grains that require a lot of the detector. In the gold-bearing ground, a lot of ground balance adjustments needs to be done before getting a good signal on the detector. Processed gold like rings, earrings and necklaces you will find them with a conventional detector.
Affordable "Metal detector best in test"

Ok, so lets get to the point. I have made a list of the metal detectors that occur most often at the top in different "metal detector best in test". How to divide the detectors into different groups can, of course, vary. You can start with more expensive detectors, or you can start with cheaper ones.
It may not matter if you call a detector entry-level or mid-level; this analysis I have done is based on how they are usually divided. I recommend looking around for great deals. Often you can find previous years models at excellent prices; then go for it. Previous models typically have small, if even any updates. Then you can get an affordable detector. Here is more information about buying a metal detector.
Detector and Pinpointer bundle
If you don't have any equipment at all, you can look at the various box offers available. In a package, there is usually a metal detector (of course), a pinpointer, and some peripherals, excavator, storage bag and the like. You will get a better price from the pack than if you buy the parts separately.
Take the chance to become a detectorist; you will surely like it. With some luck, the detector will pay for itself. And if you don`t find anything worth money, then you are guaranteed to have fun and have an enjoyable free time.
Entry-level detectors ⭐
Metal detectors at this price level are competent to begin with and give you enough performance and precision to make the search fun and rewarding. Buy an entry-level model and start at home on your garden, or your neighbour's garden (you must ask for permission😊). You will be surprised at what is under your feets.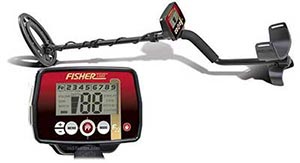 Fisher F22 is an upgrade from the previously so popular F2 all-round detector. Small and compact electronics part that is weather-resistant, i.e. it can withstand rain without extra protection. The Fisher F22 has a triangular search coil for better separation and accessibility. The search coil is waterproof. ⭐F22 has three search modes preset plus a mode for custom setting. ⭐The search modes are jewellery, coins and artefacts plus the fourth where you can save your settings. ⭐Works with four different tones for detection. ⭐Target codes indicated on display with a 1-99 number plus a code ranging from fe (iron) to 9 (silver). ⭐Preset value of ground balance.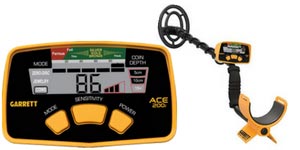 From the company, Garrett comes this model which is a successor to the classic Ace 150. A light detector, 1.2 kg, with excellent performance and high quality. Has everything you could want from a good entry detector. Suitable for both large and small detectorists. Always performs well in all "metal detectors best in test". ⭐Digital Display with 1-99 target ID. ⭐Three search modes: all-metal, jewellery, coins. ⭐Sensitivity adjustable in 4 steps. ⭐Target marker in 5 steps. 3 step depth indicator.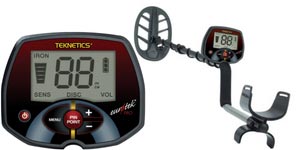 Teknetics-Eurotek-Pro metal detector best in test. A very affordable detector known for good depth of search. A good and functional entry model. With 20 cm search coil or the larger 28 cm DD search coil for increased depth and precision. ⭐Large 2-digit numeric target ID, numbers from 1-99. ⭐Iron Identification on display. ⭐Adjustable volume (1 – 20). Adjustable Sensitivity (1 – 10). ⭐3-tone audio ID.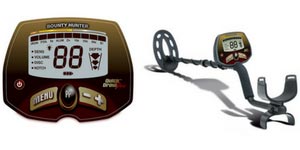 Bounty-Hunter Metal detector is an affordable and accurate detector with easy "start and go" setting. Large bright display with all the information you need. Logical and easy to set up for work. Has a 25 cm waterproof search coil in the original design. ⭐0-99 target ID number. ⭐Three tons of audio on different ID. ⭐Notch function (deselection of target categories). Adjustable sensitivity. ⭐Three segments of graphic target depth

Mid-level detectors ⭐
The mid-level is a step up from the entry-level models. If you browse around and check prices, you can find offers that allow you to get a more advanced model for the same price as a simpler model.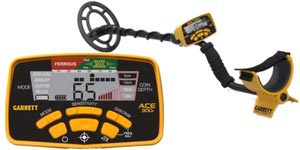 Garrett-Ace-300i metal detector best in test. The Garrett ace 300i is a development from Garrett's 250 models. It's developed in all points with better detection capability, new sound system, larger search coil, better iron resolution. A detector with high quality and finish. ⭐Digital target ID: 0 to 99 with target information. ⭐Higher frequency (8 kHz) gives better sensitivity to low signals. ⭐Adjustable frequency to eliminate interference. ⭐Five search modes (plus Pinpoint). The (i) is for models adapted to international markets.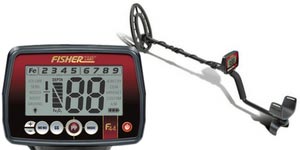 A new detector from the popular F-series. Has a large new weather-resistant display. With many features, it is, however, a perfect "Turn On and Go" detector. Both manual and automatic ground balance. Waterproof 29 cm search coil with a shape that provides increased separation and depth of search. ⭐Five search modes, jewellery, coins, artefacts, custom settings, all-metal. ⭐Sensitivity and volume are adjustable in 20 steps. ⭐Adjustable iron sound so you can quickly identify debris. ⭐F44 has four tones. Bass, low, medium and high. ⭐Weatherproof electronics box.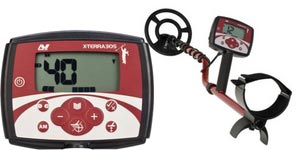 MinelabXterra 305 is a high-performance, low-cost detector, packed with features, functionality and numerous setting options. Minelab metal detectors are reliable and well-built by a veteran in the metal detector industry. ⭐True Digital VFLEX Technology – Change the frequency by changing coils. ⭐Ground balance with manual adjustment in 20 steps. ⭐"Noise Cancel" function that eliminates electromagnetic interference. ⭐Two programmable programs + all metal. ⭐Choice of one, two or three-ton target ID.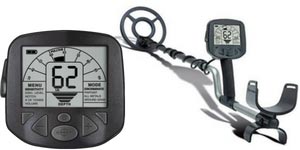 This detector is the top model in Bounty Hunter's program. Bounty Hunter Platinum has the latest innovative technology in discrimination and super sensitive search coils. Has simple user programs and large display and is at the top when it comes to advanced functions without being complicated to manage. ⭐Four tones of sound, different tones for different objects. ⭐Unique identification numbers generated for each target. ⭐Ground balance both Automatic and Digital Notch discrimination. ⭐Has all the features you could ever need.

Top-level detectors ⭐
Another step in performance. These machines have everything you could wish for if you metal detects in forests, field and beaches, both freshwater and saltwater beaches. These detectors are the "metal detector best in test".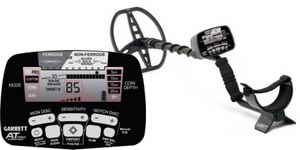 Garrett AT Pro is a great detector that covers all areas of metal search both on land and in water. Freshwater beaches and saltwater beaches. It is waterproof to 3 meters deep. This detector features a new and exclusive Garrett technology that makes it ideal for searching for coins, relics, jewellery and even gold nuggets. ⭐Six different search programs, three standard and 3 Pro. ⭐Sensitivity and Depth adjustment in 8 steps. ⭐Automatic or manual ground balance. ⭐Garrett DD search coil. ⭐High-Res Iron Discrimination.

This is a high-performance, high-quality multi-function metal detector from Teknetics. The T2 series is in a class of its own in terms of its ability to eliminate mineralization. Easier to learn how to use and set up than detectors of equal performance level. ⭐Large LCD screen with 0-99 Numeric Target ID. ⭐Continuous ground control. Linear volume adjustment. ⭐DD search coil 28 cm waterproof. ⭐Double discrimination filter. ⭐Simple user interface.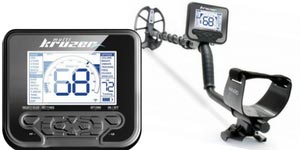 Macro Multi-Kruzer is the latest model from Macro Metal Detectors. A multi-frequency metal detector with a choice of three different frequencies: 5kHz, 14kHz and 19kHz, making Multi-Kruzer a detector optimized for all types of search areas. Macro Multi-Kruzer is 100% waterproof down to 5 meters. Works optimally and stable even in highly mineralized soils. A state-of-the-art detector for all areas. ⭐Fast signal speed so-called Recovery Speed. ⭐Six search programs Gen (All Metal), 2 Tone, 3 Tone, 4 Tone, Beach, Deep. ⭐Advanced "Beach Mode". ⭐Wireless headphones included. ⭐Built-in rechargeable battery about 19 hours of operation.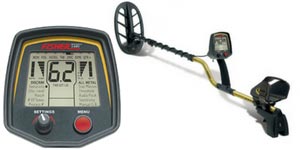 The Fisher F75 is Fisher Lab's "top of the line" machine, with better depth, more target separation than any previous model. A large display gives you an overview of all functions and features. The F75 covers all search areas from freshwater beaches and saltwater beaches to mineralized land and gold nuggets. ⭐Extended target separation. ⭐Trigger activated FASTGRAB ™ Ground Balance. ⭐Double-D 28 cm water-resistant Search coil. ⭐Separate iron tone control four levels. ⭐Double-Filter Discrimination. ⭐Notch discrimination.